Get Rid Of Your Vocal 'Break' And Reach Higher Notes With Effortless Strength
60 DAY MONEY BACK GUARANTEE

You too can gain that extra octave your voice needs
Hi, I'm Melanie Alexander, I'm an experienced vocal coach, and I've experienced some incredible successes as a singer as well, earning a Gold, & 2 platinum albums, having a hit singles in Australia & Asia as part of a band called "Girlfriend"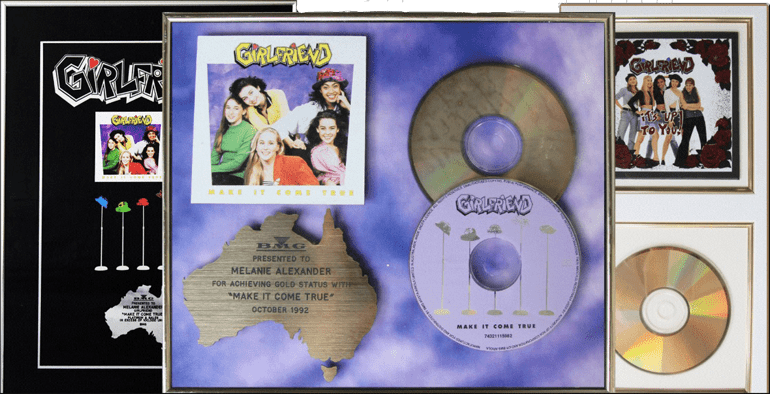 I'll share with you more on that in a moment but first…
Wouldn't it be great to share your singing voice and shock those around you?
Most folks believe that great singing is a "gift that you are born with" so they don't bother trying to improve or move past their self perceived limitations.
Many have cheated themselves out of the satisfaction and joy of singing beautifully.
They have missed out on a rich life experience.
Why? Because they tried it a few times in their life, and because they weren't amazing at it straight away, they decided they were terrible.
You too can maximise your singing range with, vocal agility and resonance – With FAST results.
Provided you know how to tune your voice the right way.
Learning the CORRECT techniques is what makes all the difference - and quickly.
You might be saying to yourself… "But wait, I KNOW I don't sound very good, or at least not as good as I could"…
The reason for that is you haven't learned to use your vocal chords properly yet.
In fact, the beauty of the vocal chords is that they respond to exercise very quickly. It's a delicate muscle that only needs minutes a day to tune – provided you know how to tune your voice the right way.
Your vocal chords can be conditioned like a multi-million dollar musical instrument.
It doesn't matter if you failed music in school,
or are the worst singer in your choir…
Even if people have called you tone deaf!
Just follow the simple steps and before you know it you will be have amazing vocal agility and a power that resonates effortlessly.
You have it in you… But you need to know the right techniques….Like our "Organic Auto Tune Technique" that that gives you velvet honey vocals through 3 octaves .
And the "Loaded Sonancy Method" that gives you absolute confidence in projecting your vocals with flawless technique… just to name a few.
As I mentioned earlier, I was a lead singer in a #1 pop group called "Girlfriend". We enjoyed international success with many singles peppered throughout the top 10.
But long before my success, I was not what you would have considered a good singer…
I was actually teased at school for my efforts at singing.
I had given up on singing altogether until a friend who was seeing a vocal coach taught me some techniques so I could audition for a musical.
Just a few tips, and a burning ambition, gave me the confidence to pursue singing.
I was lucky to have parents who were able to afford the vocal lessons I craved.
At the time I didn't realize I was learning to sing in an incredibly old fashioned and slow way.
– But with perseverance and luck I was able to make it as a professional.
But I still hadn't experienced that 'light-bulb moment' with my singing yet.
I always considered myself a dancer first, before I was a singer, and I didn't have total confidence in myself to be the lead singer in our group.
Because of our initial success, our record company BMG wanted to secure their investment by providing us with the best vocal coaches money could buy.
It was this training that I'd received that took my voice to a totally different level than any one vocal coach can give you.
There is a reason why so many people attempt singing only to give up…
Because a lot of mainstream methods that local singing teachers use are dated at best… some are even outright wrong and can damage your voice.
Some singing teachers don't want you to progress too quickly – How else would they make a living?
You may have heard sports trainers use the phrase: "it's all about technique"… well this saying could not be more true.
Learning the CORRECT techniques is what makes all the difference and quickly.
Just like serving a tennis ball properly, or swinging a golf club correctly…
By using professional insider tips and techniques – these are the hallmarks of a winner…someone who stands out among everybody else.
What has kept you from almost becoming a fantastic singer?
Maybe you have a nagging feeling of a path not taken?
With many of our success stories, the phrase we hear most often is: "I almost missed out on unleashing the amazing voice that I had".
Here's a way to make up for time you have missed; smashing your vocal barriers…
When your voice has been conditioned properly with the right guidance, only then will you be able to master the most important aspects of singing:
Of course there is a lot more to singing incredibly… but these aspects are the cornerstones of a great singer.
You can learn these cornerstones easily… by putting aside just 15 minutes a day …even if you have to break it up throughout your schedule… whether you are in the shower,  after breakfast or even in your car on the way to work.
You will see alarming results in under a week!
This is where it's all going to "click" for you.
Now, am I saying you are going to wake up on the sixth day of practice sounding like Mariah Carey?
Well… no…
What I am saying, is that you will have that moment where you noticeably recognize a dramatic difference in your vocals…Like a butterfly fresh from its cocoon… That tipping point where it all seems to "click" – where you feel that breakthrough… This intoxicating feeling that you can take on anything.
This means being able dominate the karaoke bar with songs you would have never dreamed of trying before…
Or finally being able to sing confidently in your local choir.
It means reaching for those high notes with pure confidence and ease…
And it means reaching your dreams as an incredible singer!
You are probably thinking right now…
"OK so I get it there is a method for transforming my singing voice incredibly quickly using cutting edge professional techniques… How do I do this properly?"
All of this can be achieved by dedicating 15 minutes a day following the same system that I used for my career, and the same system that has been developed to help thousands of others for the past 10 years: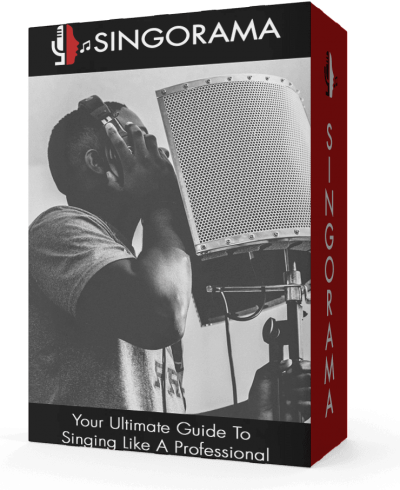 Singorama 2.0 does more than enlighten you with a singing realization… It also has notoriety for being the most comprehensive learn to sing program you can get.
The core system consists of 28 audio modules. This is combined with ebooks, worksheets, and tools designed to condition your voice quickly!
Because the art of singing is more than just breathing exercises and singing strengthening techniques, Singorama has been dedicated to providing the most relevant and up to date training for related aspects of performing.
Things like:
If you are inexperienced on stage, our performance tips as well as advice on auditions and how to ace them will also be extremely valuable for you.
Of course the program wouldn't be complete without:
We believe that this program can give you an exceptional edge over other singers.
As you master the 'progressive interval training' exercises and the Solfege System, you will increase your ability to learn songs and harmonize in a way that previously would have been like another language.
We teach you how to avoid singing sharp or flat. And we will also teach you about perfect pitch and relative pitch.
This course is as comprehensive as it gets!
Nothing has been left unanswered!
One of the best things about this course is that it's structured so that YOU GET RESULTS FAST!
However the part I'm most proud of is that IT'S SO EASY TO USE!
The team at Singorama are so sure you will see incredible results FAST with your singing voice, that we back it up with a 60 day money back guarantee.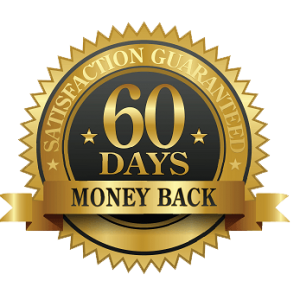 For any reason at all, if you are not happy, just contact our support team, and we will happily refund every cent.
No questions asked.
Remember: You hold ALL the power here! The power to take back your money if you are not thrilled with the product, and the power to change your life as an incredible singer.
OK – so now to the price.
Firstly, you will be receiving true groundbreaking technology… and it's called
This is designed to help you advance your singing and musical talent far ahead of the competition. You can use this technology to almost tune your ear and voice to pitch perfection. You'll be able to hit the right notes and sing precisely each and every time.
'Perfect Your Pitch Pro' was designed to train the ear to hear all 36 notes on the chromatic scale. As you become used to knowing the difference between notes, you'll effortlessly correct yourself while you practice pitch, and as a result, significantly improve your singing voice in a very short amount of time.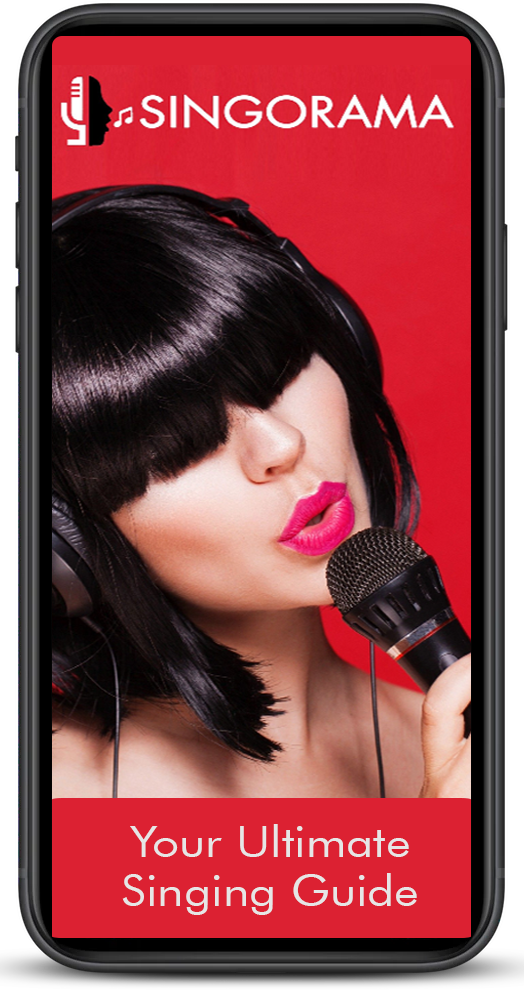 This software is valued at $97 and is a game changer!
The second groundbreaking tool you'll receive today for free is the NEW and improved
Singorama mini-recording studio.
This is software is designed to allow you to record, listen, evaluate and chart your progress on your way to singing mastery. The virtual keyboard is excellent for practicing your scales and pinpointing your weaknesses that need work.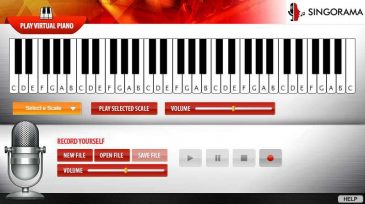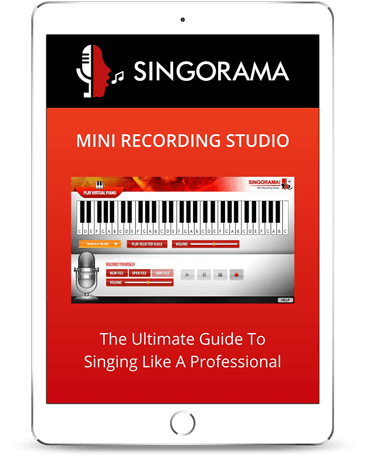 This awesome software is valued at $97 and is exclusive to Singorama members only
The Ultimate Guide on How to Read Music.
valued at $47.  As a singer, it becomes a huge advantage if you have the ability to also read music. This easy-to-read, yet in depth guide will increase your understanding of music in leaps and bounds, and turn you into a musical force to be reckoned with!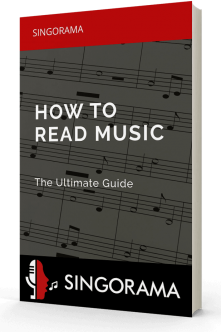 Now it should be crystal clear why Singorama 2.0 has a retail value of $297 and that's excluding all those incredible tools I've just discussed…
And, when you add in those tools with a collective real-world value of $241, the retail value of Singorama 2.0 is $538.
Listen: I'm ready to make this a no-brainer decision for you today.
Because frankly, I refuse to let finances stop you from getting your hands on this incredible system!
I've decided the that in order to deliver Singorama quickly, efficiently and cost effectively we would offer the entire system with all is bonuses as a downloadable product.
That means you can easily copy it onto your phone, tablet, or iCloud so you learn and practice whenever you want!
This means you won't even come close to paying $538 for Singorama.
Cut that price in half at $269… and you're STILL not close!
As ridiculous as it sounds, you won't even pay $120 today!
Today only, and only from this presentation, your total investment in The Singorama System, including ALL the added tools valued at $241 is ONLY:

I would like you to take advantage of my "Unconditional Triple Guarantee"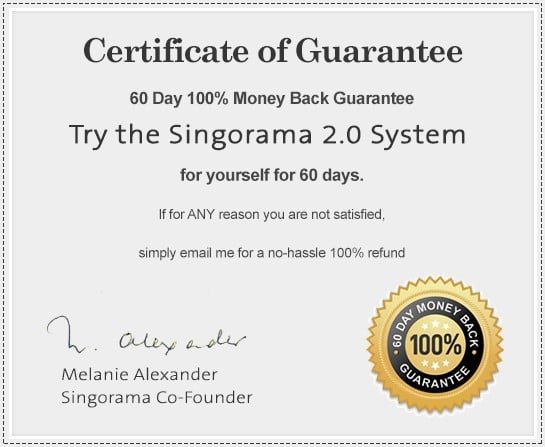 Just try Singorama for 60 days… If you do not see massive improvements in your singing…
OR if you do not find our service and attention top-notch…
 I'll refund you every penny that you invested today!
I want you to feel confident about purchasing Singorama 2.0 today, so I have put in a 60 day money back guarantee to ease your mind. 
You will get the system for a full 60 days with absolutely no risk to yourself. 
You can take it home, test it out, go through the kick-start workbook, listen to the audio files… and see for yourself the effect it has had on your life… two months down the track. Once you have started using these powerful, life-changing techniques, I'm confident that you'll NEVER want to send it back!
But, if for some reason you're not totally ecstatic with Singorama 2.0 and the results you're getting, rest assured that you won't be out one cent. Just send me one quick email and I will refund your payment…
Right up to the final day of this 60 day guarantee. NO QUESTIONS ASKED.
It really is that simple.
All you have to do to get all of what I'm offering in the Singorama 2.0 System for just $47 today is to act NOW, and click on the 'Add to Cart' button below. And you can feel completely at ease, knowing that you are protected by my 100% 60-day no-risk guarantee.
You really don't have ANYTHING to lose… but so very much to gain…

Jessica Called Us And Left The Following Message:

Roland Called Us And Left The Following Message:
In just moments, you can be well on your way to dazzling your friends and family with your breathtaking singing skills.
Remember: the value we're giving you today is over $530… and even at that price, this is a total bargain!
Yet, just by taking action today, the ENTIRE Singorama System[pack image], with all the amazing tools is only
LIMITED TIME: Just 1 payment of $47!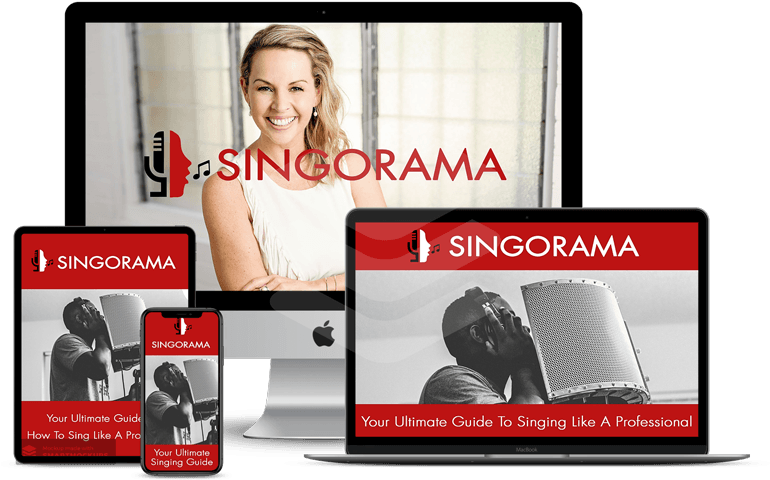 Click the button at the bottom of this page for INSTANT ACCESS… no delays, no waiting..
Let's 
get

 you started TODAY…

Within literally a few minutes, you'll have everything at your fingertips: the entire Singorama System, inside the secure members area…

And this includes the 3 super-charged tools which again have a retail value of $241!

Remember: You've been struggling with your singing for far too long…

And the pain of continuing without taking action will only lead to a continued lack of confidence and the use of improper techniques….

Plus more despair, more frustration…

YET: All of this can be avoided, beginning today, simply by applying the step-by-step no fluff principles found in Singorama.

Imagine, right now, how it will feel the moment you become the highly impressive and fantastic singer you've always dreamed of being…

You have expanded your vocal range by an octave or more. All signs of strain in your voice when singing high notes have vanished. And you effortlessly amaze others with the beauty and charm of your singing.

You have let go of the embarrassment of singing in front of others. You project your voice with power and conviction. You embrace your full potential as a singer who is capable of a mesmerizing, jaw-dropping performance on stage. And all whilst bursting with joy and confidence.

Now, stop and look back to today. Considering the fantastic singer you have the potential to be, what price are you willing to pay for it? We've already talked about how vocal coaches can cost an arm and a leg and still end up not helping you to achieve the high end singing skills you're looking for.

Six months from now you could still be in the same place wondering why your singing is still at the same level as before, why have you not progressed despite trying so hard and you'll be left wondering why it never worked out for you..and you'll regret not having the courage to take a chance on yourself and see the incredible singer you could be.
Or on the other hand, you could be fulfilling your potential as a singer who's capable of impressing your toughest critics! You'll have total confidence in your abilities as a vocal master, and all of it thanks to the guidance you received as part of being an alumni of the Singorama system.
There's simply no other more convenient, cost effective or efficient way to achieve singing mastery. So what are you waiting for?
Now that we've shown you this no risk way to train yourself to be the singer you've always wanted to be and how you can do it in less time with less effort and less frustration, the next move is up to you.
You now know that your current lack of confidence and ability with your singing isn't fully your fault…
Yet, today is your day to claim your power and take responsibility:
You do it by taking action… doing what you know YOU MUST DO in order to see REAL results with a program that SIMPLY WORKS!
We are so confident that our program will work wonders for you, that we offer you an iron clad GUARANTEE.
You have 60 full days to try Singorama on me -RISK FREE- and either you're stunned by the positive results or you pay nothing!
And, as a reminder, you're always just minutes away from an answer from our dedicated and helpful support team, so you will never feel left on your own…
So, you've bought Singorama… what do you do first?
Immediately after you order today, go straight to the info packed introductory section. This will give you the overall guidance you will need for massive and quick results.
Then go directly to the Getting Started section – with 28 world class audio lessons – perfect for beginners right up to advanced singing enthusiasts.
Remember: Along with the 28 life-changing audio lessons you'll also be receiving…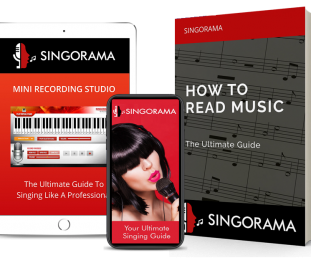 Perfect Your Pitch Pro… this is your answer to increasing your aural skills so that your pitch is spot on each and every time you sing.
The Singorama Mini Recording Studio software designed to allow you to record, listen, evaluate and chart your progress on your way to singing mastery.
Plus, The Ultimate Guide On How To Read Music to increase your understanding of music and greatly enhance your ability to sing like a professional.
The Singorama 2.0 System is like having a decade of world class singing coaching experience in the palm of your hand. It's designed to help you easily progress each step of the way.
Unlike just solely having a vocal coach, with Singorama you're free to practice anytime you want. It won't cost you thousands of dollars for a private tutor and you won't have to worry about embarrassing yourself in front of a group practicing. You can now learn singing from the comfort and privacy of your own home.
Plus the Singorama System is 100%. Our vocal technologies are designed to almost tune your voice exactly to the tee. Even the best of vocal coaches can't pick up the flaws and mistakes that our technology can catch, and it's all included within the Singorama 2.0 System.
Listen, don't put this off a second longer… let me tell you WHY:
We will eventually have to increase the price closer to the retail value, as you will agree it is a price to low to sustain.
So BE SURE TO ACT TODAY, before simple economics force me to increase the price, okay?
Those who act today will lock in their discount… others won't be so fortunate…
Like they say, "There IS no tomorrow"… and no one who has ever succeeded at attaining an awe-inspiring singing voice did so by procrastination and delay, right?
It's no longer even a question of 'want' – you NEED Singorama, and now you just have to take action:
Just know this: without taking action today, you risk PERMANENT frustration and even failure when it comes to your singing…
So let's make sure you do the SMART thing… the ONLY smart thing to do:
Take advantage of this limited-time offer, while you still can…
And get on the fast track to singing success using the smartest, most proven system on the planet…

Kwesi Called Us And Left The Following Message:
John Called Us And Left The Following Message:
John Also Emailed Us This Song He Recorded:

Austin, Texas, United States

Nadia Called Us And Left The Following Message:

Leesburn, VA, United States
John Called Us And Left The Following Message:

Columbus, Ohio, United States
Learn To Sing With These Tips In Mind
Don't believe the mindset that learning how to sing can be hard. Learning the art of song may seem like a daunting task. But it doesn't have to be! The hardest part of vocal mastery may actually be convincing yourself that you can actually sing! Once you've got that part down, all the rest is just a matter of a little work. Here are several things you need to remember if you want to tune your voice properly to become a great vocalist.
While you can't expect progress overnight, anyone with the right mindset, enough determination, and access to the right material and information can learn to sing quickly and easily. Don't get frustrated if you don't progress as quickly as you expected to; everyone has to start somewhere, and if you want to reach your goals higher and faster, check out Singorama.